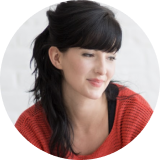 Maria Richter
Product Developer
MIA aus Berlin transformed into IAM MIA
In 2007 I moved to the UK to study Communication Design at University of Portsmouth. My first projects I released as Mia aus Berlin.
After I finished my Masters degree in Graphic Design I returned to Berlin in 2011. I gained work experience in agencies and in startups while I was focusing more on my professional development as a user experience and interface designer.
Work

with accepted usability pattern
There is no need to reinvent the wheel whenever you are creating an app, software or website. Use interactive patterns that have been successfully tested and therefore accepted by real users. Start investing into the creative progress of your digital brands and products.
The journey is the destination
– Allow your users to enjoy the digital journey and request interactive solutions today.